SRF 2011
We welcome you to attend the 15th International Conference on RF Superconductivity to take place on July 25-29, 2011 in downtown Chicago. Our goal is to continue in the tradition of the 14 previous conferences and provide a lively forum for SRF scientists, engineers, students and industrial partners to present and discuss the latest developments in the science and technology of superconducting rf for particle accelerators.
Pictures taken during the SRF 2011 boat trip and Banquet dinner are available here (picasa link).
Additional pictures from SRF2011 are available here (courtesy:Cryogenic Society of America)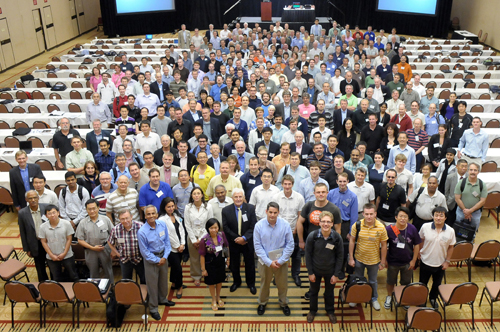 SRF2011 Group picture (click on the picture for a larger image).
Tutorial Update: The latest bulletin with additional information regarding the tutorials is available here.
Paper submission is now open! Click here for instructions.
Please see this circular regarding student participation at the SRF 2011 in downtown Chicago.  
Important - Non-US citizens wishing to attend either the tutorials or the laboratory tour at Argonne must fill out the foreign national questionnaire
form
as soon as possible. (This requirement includes permanent residents). Click
here
for more information on Foreign visitors to ANL.
SRF-2011 Sponsors
For sponsorship opportunities, please click here.