Explore Chicago
Things to see and do - The city of Chicago's official Tourism site
Tours
Chicago Trolley and Double Decker Co : Ride The Red and Green Trolleys or The Red Double Decker Buses. Your Hop On Hop Off Tour ticket gives you transportation to the most famous Chicago attractions. Tour runs all year long, seven days a week except for inclement weather days, Thanksgiving Day, Christmas Eve and Christmas Day.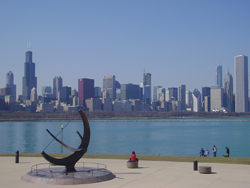 MetroWalkz Self-Guided Walking Tours - Chicago : MetroWalkz' numerous self-guided Chicago sightseeing tours with easy-to-use maps and insider narratives make it easy to discover Chicago at your pace, on your schedule.
Boat Tours : A boat tour offers a unique Chicago lakefront experience you won't soon forget. From the luxury to the budget, there is a fun boat for every occasion along Chicago's Lake Michigan! 
Sightseeing Bus Tours:  Sightseeing bus tours are also available, operated by Chicago Double Decker Co. (312 251 3100) or Chicago Trolley Company (773 648 5000).
Attractions
Towers: See Chicago from the top of the Hancock Tower or the Willis Tower (formerly the Sears Tower; the tallest structure in the USA.)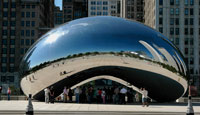 Millennium Park: Chicago's latest lake-front attraction, opened in 2004. It is adjacent to Grant Park a 24.5 acre wonderland, which includes the Gehry Music Pavilion, the new home of the Grant Park Music Festival, with free outdoor classical music performances Wed-Sun during the summer. Visit in the evening and enjoy the show of lights at Grant Park's centerpiece - Buckingham Fountain.
Navy Pier: Enjoy the view of the city from the Navy Pier Ferris Wheel, one of many attractions at one of the largest entertainment piers in the USA. Don't miss the fireworks displays Wednesday and Saturday evenings, visible all along the lake front! For the more active attendee, there is an 18.5 mile lakefront bike way extending along Chicago's shoreline, used for biking, jogging, in-line skating and hiking. Bike and in-line skates can be rented from Bike Chicago at Navy Pier.
The Art Institute of Chicago, located in Grant Park, is one of the great museums of the world. Its collection spans 5000 years of visual expression, and contains one of the largest collection of Impressionist and Post Impressionist paintings outside France.
Museum Campus, at the south end of Grant Park, includes the Field Museum of Natural History (home of "Sue," the world's largest complete Tyrannosaurus Rex skeleton.) Over 20 million artifacts inhabit the nine acres of exhibit halls.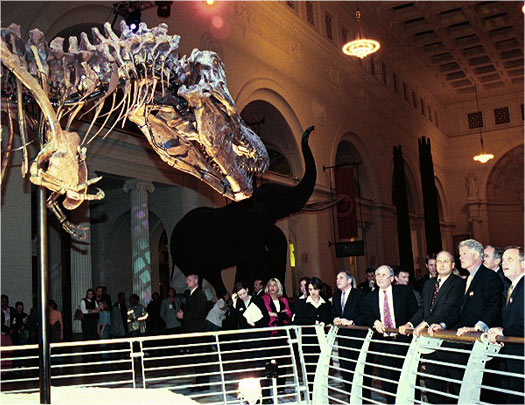 The John G. Shedd Aquarium is the world's largest indoor aquarium, housing some 8000 aquatic animals of 650 species.
The Adler Planetarium and Astronomy Museum is the oldest planetarium in the western hemisphere, and is renowned for its collection of historical astronmical instruments and its splendid sky shows. Its location commands outstanding views up and down the lakefront.
Further south is the Museum of Science and Industry, located in the only structure remaining from the World's Columbian Exposition of 1893, and containing more than 2,200 exhibits that cover 14 acres. Highlights include a Boeing 727 cantilevered from a second floor balcony and the U-505 submarine (CTA bus 10 from Michigan Ave.)
The Chicago Historical Society, located just south of Lincoln Park (Clark at North Ave.), is the city's first cultural institution, organized in 1856. A visit provides a complete history of Chicago from the earliest days.
Lincoln Park Zoo access is free. Founded with the gift of a pair of swans from New York's Central Park in 1868, the zoo now encompasses 35 acres housing 1000 animals. (Take the Lincoln Park Trolley from Navy Pier or CTA bus 151 on Michigan)
Shopping
Magnificent Mile: N. Michigan Avenue, north of the Chicago River to the Water Tower, is Chicago's most prestigious street, lined with exclusive shops and boutiques. (During daytime catch the free Navy Pier Trolley.) The Water Tower was the city's tallest building when erected in 1869, and one of the only buildings to survive the Great Chicago Fire in 1871. (From Navy Pier take CTA bus 66.)
Food and Restaurants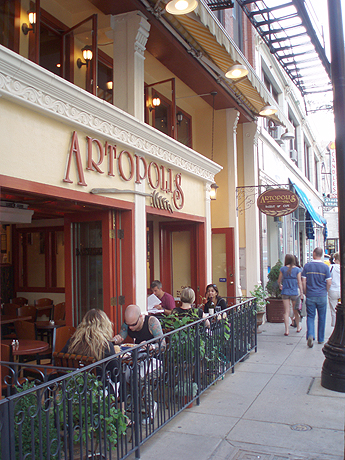 Chicago takes its food very seriously. Although well known as a steak town, Chicago's diverse ethnic influences provide opportunities to sample a host of other cuisines. Near Navy Pier, the River north area (west of State St, North of the river) is home to many world class restaurants.
Further away in Greektown (Westside - Halsted between Madison and Van Buren) are many fine Greek restaurants.
Little Italy (Westside - Taylor from Ashland to Halsted) is the original home of Chicago's Italian community, and several excellent Italian Restaurants still remain.
Chinatown, on the south side at Wentworth and 22nd, is home to many authentic Chinese restaurants, and of course Chicago Deep Dish Pizza abounds at a number of prime locations not far from Navy Pier. http://chicago.citysearch.com/section/restaurants
Chicago is the home of Goose Island Brewery, which has a brewpub at 1800 N. Clybourn (CTA Red Line), and another near Wrigley Field. Closer to Navy Pier, Rock Bottom Brewery has a brewpub at Grand and State St.
Nightlife
Second City has developed and honed an improv-based art form that has translated into legendary stage productions and award winning television shows. Its training programs have launched the careers of countless stars of stage and screen.  It's located at 161 N. Wells St. on the north side.
House of Blues Chicago opened in 1996 and is located in the historic Marina City complex on the Chicago River. Modeled after the spectacular "Estavovski" Opera House in Prague, the spectacular views from the exclusive Opera Boxes are a unique and unforgettable experience.
Sports
Chicago is home to two baseball teams: the Cubs and the White Sox.
Wrigley Field (home of the Cubs) is one of the oldest ball parks in America, dating back to 1914. US Cellular Field (home of the White Sox) is a modern stadium dating back to 1991. Both fields are easily accessible from the CTA Red Line. Baseball season will be in full swing during SRF 2011.  See the Cubs schedule and the White Sox schedule for more detailed information.
The Bears, Bulls, and Blackhawks will be out of season at the time of SRF 2011.  A complete list of Chicago professional sports teams can be found here. 
Performing Arts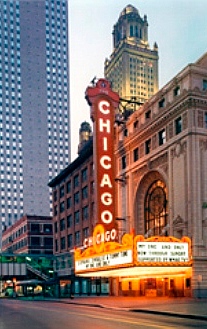 Chicago provides a variety of music and entertainment year-round. Close to 100 theatres host dramas and musicals for any taste. Dance, symphony and opera productions are performed at venues throughout the city. Small clubs specializing in jazz, blues and country music offer first class entertainment in an intimate setting.  Calendar of Events
Getting About
The City of Chicago provides free tourist trolleys from Navy Pier to Michigan and State Streets and Lincoln Park, although these are often crowded.
The Chicago Transit Authority provides train ("the L") and bus service throughout the city.
Visit the CTA home page for the latest fare information.
For more information and ideas, visit the City of Chicago Official Visitors Guide.
Beyond Chicago
In Oak Park, the home/studio of Frank Lloyd Wright (951 W Chicago) is open to the public, and there are many examples of his Prairie style architecture in the area, including Unity Temple. Oak Park is also the birthplace of Ernest Hemingway. (Take the CTA Green Line from the Loop.)
Brookfield Zoo covers 216 acres, 14 miles west of downtown. This zoo has specialized in providing natural outdoor habitats for the animals since it was opened in 1934.
The Morton Arboretum, founded in 1922, covers 1700 acres in the Chicago suburb of Lisle, located 25 miles west of downtown.  Some 3300 species are represented in this scientific laboratory of woody plants.
The Chicago Botanical Garden is located in north suburban Glencoe. Established in 1965, there are 25 garden areas arranged around a series of man-made lakes.