The XXIX International Conference on Neutrino Physics and Astrophysics will be an entirely online conference from June 22 to July 2, 2020
In light of the present COVID-19 worldwide crisis and after carefully considering all options, it has been decided that Neutrino 2020 will be held as an online-only conference. The conference will be held 1/2 days on Monday through Thursday from June 22-July 2, 2020 and will include both plenary talks and poster sessions. For those who already registered for the in-person conference, we have posted details on reimbursement.
The biannual Neutrino conference is a vital, regular milestone for our field and an important opportunity for our early career colleagues. For these reasons we consider it imperative to hold a Neutrino conference this summer. Although we are disappointed to not be welcoming you to Chicago, we hope that an online-only event will maintain the great features of this conference series and also be an opportunity for some innovation.
The Conference
There are multiple ways to experience Neutrino 2020. Registration is required.
• Talks: Listen to plenary talks from top researchers presenting the latest results in neutrino physics. Instructions on how to connect are emailed to registrants.
• Posters: Browse more than 500 posters on our website and vote for the best posters at Neutrino 2020.
• Virtual Reality: Get immersed in a virtual poster session, interact with poster presenters, visit our social rooms, and enjoy some virtual sight-seeing.
• Slack: Post questions and responses and participate in discussions. Access multiple channels at neutrino2020.slack.com. Request access using this form.
Registration for the Online Conference
Registration is required for the online Neutrino 2020 conference even if you had previously registered. There is no fee to attend. We will be accepting registrations for the online event until July 2.
Registration for Online Conference
Stay Connected through Slack
There is a dedicated Slack channel for conference communications. Registrants can request access to the Slack channel using the link that follows below. After joining the N2020 Slack, speakers and participants may join the #talks_session channel, with session as marked on Indico (e.g. #talks_opening). For instructions on how to join a channel, please see: https://slack.com/help/articles/205239967-Join-a-channel.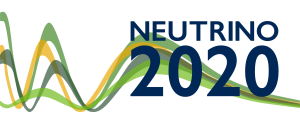 Latest news
June 20, 2020 The first set of posters is available for viewing. Many come with 2-minute summary videos. Check them out!
June 19, 2020 Test out the Neutrino 2020 Virtual Reality platform. A few Virtual Reality rooms are accessible now if you would like to get familiar with the environment.
June 17, 2020 Media advisory
June 17, 2020 First informational email sent to registrants of the virtual conference.
June 16, 2020 Registration for the online conference has been extended until July 2.
June 9, 2020 Deadline for uploading posters has been extended until June 15.
June 3, 2020 Full timetable for the conference is now available.
May 13, 2020 Registration for the online conference is now open, poster instructions have been updated, duration of the conference has been announced, and a block schedule is available. Registration deadline is June 8.
May 4, 2020 We are adding a one week grace period for people who may need more time to prepare their abstracts under the present circumstances. Poster abstracts will be accepted until May 8, 2020.
April 14, 2020 Because of the present COVID-19 worldwide crisis, Neutrino 2020 will be held as an online-only conference with an online poster session.
March 30, 2020 The poster submission deadline has been extended to May 1, 2020.
March 18, 2020 The organizers of Neutrino 2020 are paying close attention to the global and local impacts of COVID-19. We are presently considering a range of options including hosting the conference in Chicago if the situation allows, postponing the conference, organizing a remote-only event, or canceling the conference. No decision has been made at this point. Thank you for your patience and understanding.
February 19, 2020 If you would like to share a room, information on how to find a roommate are available here.
February 19, 2020 Join the Neutrino2020 Slack workspace to connect with other conference participants! Please fill up this form to be added.
February 17, 2020 A preliminary block schedule for the conference is available here.
January 1, 2020 Poster abstract submission is now open. For more information, please visit the poster session page.
December 20, 2019 Second bulletin.
October 7, 2019 First bulletin.
October 7, 2019 Registration is now open. For more information, please visit the registration page.